My AHK colleague and friend
Joe Glines
 asked me recently what was the most useful but least known feature of Quick Access Popup. Answer: the
Alternative menu
!
This feature was added when I developed Quick Access Popup in 2015 following multiple suggestions from users of Folders Popup (the ancestor of QAP) that wanted additional ways to use their menu: for example, to open application favorite in Admin mode "on demand", to copy the URL of a favorite to the Clipboard, etc. The Alternative menu has become the primary way to access these new features. They can also be accessed using shortcuts or keyboard modifiers as explained in the video.
The Alternative menu features are less know because they do not appear to QAP beginners at first glance. But once you know the basics of QAP, these are a great features to discover. And the Alternative menu is still evolving! Working on v11.5.7 (
released recenlty
), I added two new features for the Alternative menu: "Move the selected file to a favorite folder" and "Copy the selected file to a favorite folder". 
See in this video how I showed Joe
Using the Alternative menu in Quick Access Popup
 !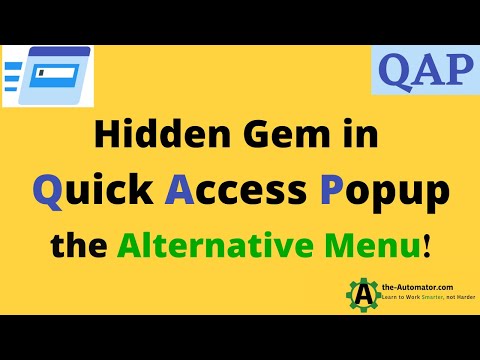 To know more about these features: 
What are the Alternative menu features?